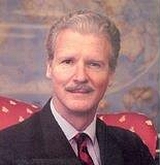 Robert R. Reilly

Robert R. Reilly

Robert R. Reilly is director of the Westminster Institute. In his 25 years of government service, he has taught at National Defense University (2007), and served in the Office of The Secretary of Defense, where he was Senior Advisor for Information Strategy (2002-2006). He participated in Operation Iraqi Freedom in 2003 as Senior Advisor to the Iraqi Ministry of information. Before that, he was director of the Voice of America, where he had worked the prior decade.

Mr. Reilly served in the White House as a Special Assistant to the President (1983-1985), and in the U.S. Information Agency both in D.C. and abroad. In the private sector, he spent more than seven years with the Intercollegiate Studies Institute, as both national director and then president. He was on active duty as an armored cavalry officer for two years. He attended Georgetown University and the Claremont Graduate University. He has published widely on foreign policy, the "war of ideas," and classical music.

Among his many publications are:


Making Gay Okay: How Rationalizing Homosexual Behavior Is Changing Everything (Ignatius Press, 2015)
The Closing of the Muslim Mind: How Intellectual Suicide Created the Modern Islamist Crisis (ISI Books, 2010)
Assessing War, "Assessing the War of Ideas during War" (Georgetown University Press, 2015)
Information Operations: Successes and Failures (Westminster Institute, 2014)
The Prospects and Perils of Catholic-Muslim Dialogue (Isaac Publishing, 2014)
Fighting the Ideological War, "Public Diplomacy in an Age of Global Terrorism" (Isaac Publishing, 2012)
Afghan Endgames, "Shaping Strategic Communication" (Georgetown University Press, 2012)
Islam and the West: The Theology behind the History (CRCE Occasional Paper, London, 2011)
The Three Circles of War: Understanding the Dynamics of Conflict in Iraq, "Strategic Communications" (Potomac Books, 2010)
Ideas Matter: Restoring the Content of U.S. Public Diplomacy (The Heritage Foundation, July, 2009)

View Mr. Reilly's June 2016 interview on EWTN here.