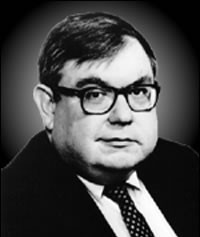 Samuel T. Francis
Championing
Western Civilization
and the great legacies of
Sam Francis and Joe Sobran
and their allies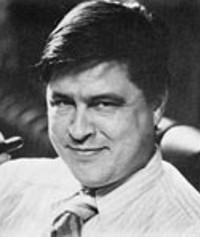 Joseph Sobran

Fitzgerald Griffin Foundation
---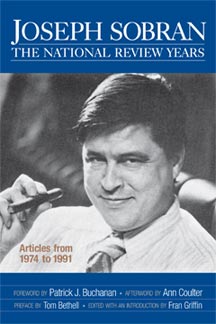 Joseph Sobran:
The National Review Years
Often compared to G.K. Chesterton and H.L. Mencken, Joseph Sobran produced some of the finest essays in the English language. This selection is an engaging look at the politics, culture, and mindset of the late 20th century.
Covering a wide range of topics including Christianity, secular humanism, the Constitution, morality, motion pictures, books, music, liberalism, tyranny, so-called gay rights, Shakespeare, and even baseball — Sobran writes with grace, eloquence, and wit.
Even more important, considering these turbulent times, his penetrating, timeless insights can help us regain our sanity.
BUY at Amazon
"Sobran's voice was unique, his style readily identifiable, his wit irrepressible, his range as wide as that of any columnist of his generation."
— Patrick J. Buchanan (from the Foreword)
"[Joe Sobran's] literary ability, his originality, learning, eloquence and the sheer speed with which he could produce articles reached the level of genius. ... He was the intellectual equivalent of a natural athlete who can reach Olympic standards with no training."
— Tom Bethell (from the Preface)
"Now a whole new generation can discover for itself Joe Sobran's uniquely powerful, persuasive, elegant, trenchant — and hilarious — voice; the voice of the twentieth century's greatest essayist; a voice that speaks again in the pages of this marvelous book."
— Ronald K. Tacelli, SJ, Boston College
"Joe could say in a sentence what most writers would need an entire column to express. [His] specialty was to make blindingly simple points that would cut through mountains of sophistry. Once you heard them no amount of fancy footwork could make that particular liberal humbug work again."
— Ann Coulter (from the Afterword)
---
Publication date: First Edition: November 15, 2012; Second Edition: December 20, 2018
Publisher: FGF Books (publishing imprint of Fitzgerald Griffin Foundation)
Paperback: 216 pages including an index
Size: 6 x 9
Reviews of Joseph Sobran: The National Review Years:
"In this anthology ... one meets a political and social writer with a sense of language that I found unmatched among my contemporaries. ... He could construct elaborate theological and constitutional arguments with an economy of words."
— Paul Gottfried's article, "The Late, Great Joe Sobran" at TakiMag.com
"Joe had a knack for putting his finger on timeless issues and translating the ideological writing on the wall into simple prose."
— Christopher Manion's Joe's Home Run in The Wanderer and at FGF Books
"A key difference between baseball and democracy is that in baseball the winners don't get to rewrite the rules. And it never occurs to the losers to blame the rules for their losses."
— Allan Brownfeld, quoting from the book in his review, A Look at Late 20th-Century America from a Perceptive and Talented Observer at FGF Books."
"Although much of Sobran's writing focused on issues of the day, the startling thing about his analyses is the degree to which they remain timely even when they were focused on current events of decades past."— Mal Kline's Commemorating a Non-Conformist at Accuracy in Academia's website, academia.org.
"Then there is Joseph Sobran:The National Review Years, compiling scintillating essays from the man who was, in terms of pure style, NR's MVP throughout the late '70s and 1980s. "The Republic of Baseball," or "What Is This Thing Called Sex?" by themselves would make this book worth owning, but that's hardly all — and remarkably, the elegance of this volume's design matches the work within. Or comes close."
— Dan McCarthy writing in the Christmas Books section of the December 2012/January 2013 edition of The American Spectator
"Joe Sobran was as gifted a thinker and writer as any on the political and social right in the United States during the past seventy years and the selections in Joseph Sobran: The National Review Years show it."
— Gary Potter's article at FGF Books
"When he joined National Review in 1974, Joe was still only 28 years old. He no more required obvious formal tuition in his art than Mozart did in his. If he ever suffered from those deleterious literary influences that napalm the average 20-something scribbler's brains, they cannot have troubled him for more than about 10 minutes. Finger would hit typewriter keyboard and suddenly Joe would spring forth, fully armed, from-as it were-the head of Joe."
— R. J. Stove's book review in The American Conservative
Press Release Announcing Publication of Joseph Sobran, the National Review Years